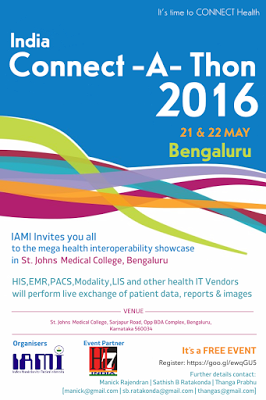 India held its first Health IT Connectathon on 21-22 May 2016 in Bengalaru, India. 10 companies tested 29 different products in the HIS, RIS and DICOM areas.
Interoperability between HIS, EMR, PACS, LIS and various other systems is a challenging area in Healthcare IT. As a customer one deals with multiple vendors to achieve smooth flow of information between disparate systems with varying success rates.
The idea of demonstrating it in a workshop while being monitored by technical folks gave rise to an annual event that is now regularly held in USA.
Organisers:
Indian Association for Medical Informatics (IAMI) – the single professional home for medical informatics is organizing this event, hoping to build on it and make it a regular event in India too.
HL7 India – the India chapter of Health Level 7 aka HL7 is a joint organizer
Data sharing was accomplished for all the use cases and the vendors were presented with appropriate certificates. Thanks go to the core committee members M Rajendran, Dr SB Gogia, Dr T Prabhu, Dr S Ratakonda as well as HL7 India chair Dr C Gunasekhara and chair elect Dr N Yellapragada.  See all the India Connectathon videos here.