One World, One Health: Global Partnership for Digital Innovation
Virtual Conference, 2-4 October 2021
The International Medical Informatics Association (IMIA) is pleased to announce MedInfo 2021 – One World, One Health: Global Partnership for Digital Innovation. Held every two years, MedInfo is the foremost International conference for the science and practice of biomedical and health informatics.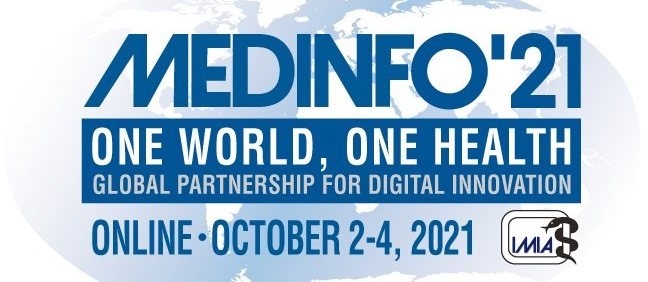 MedInfo 2021 was originally going to be held in Australia in August 2021, however the COVID-19 pandemic made it impossible to move ahead with these plans.
"To offer a platform for excellent scientific discussions and to continue to be a place where biomedical and health informatics professionals meet, it has been decided to convene MedInfo 2021 online. COVID-19 has impacted all works of life all over the world and IMIA is no exception.", said Dr. Najeeb Al-Shorbaji, IMIA VP MedInfo. "Holding the 2021 congress online is a translation of many of the values held by IMIA, connecting experts and like-minded professionals to exchange experiences, learn from each other and share knowledge virtually will extend opportunities for those who normally cannot travel to participate in MedInfo."
IMIA looks forward to welcoming the world to MedInfo 2023 in Sydney, 7-12 July 2023, and to MedInfo 2025 in Taipei.